I decided to shoot mostly carry optics next year. I purchased a Canik SFX with a 6MOA Vortex Viper red dot. The whole package, the Vortex Viper included, cost under $600. This isn't my first Canik, I have an S120 which is a CZ75 clone that I occasionally shoot in Production and TP9SA which I shot in 3Gun for a year. Both are solid guns, if a tiny bit rough in fit and finish. Small details, such as no flashing on the frame, make the TP9SFX a noticeably nicer pistol than the previous iterations of the the TP9 line. It comes with two backstraps, several mag release buttons, competition front fiber optic sight, Warren rear sight, two 20 round magazines and four different red dot mounting plates for most of the popular red dots.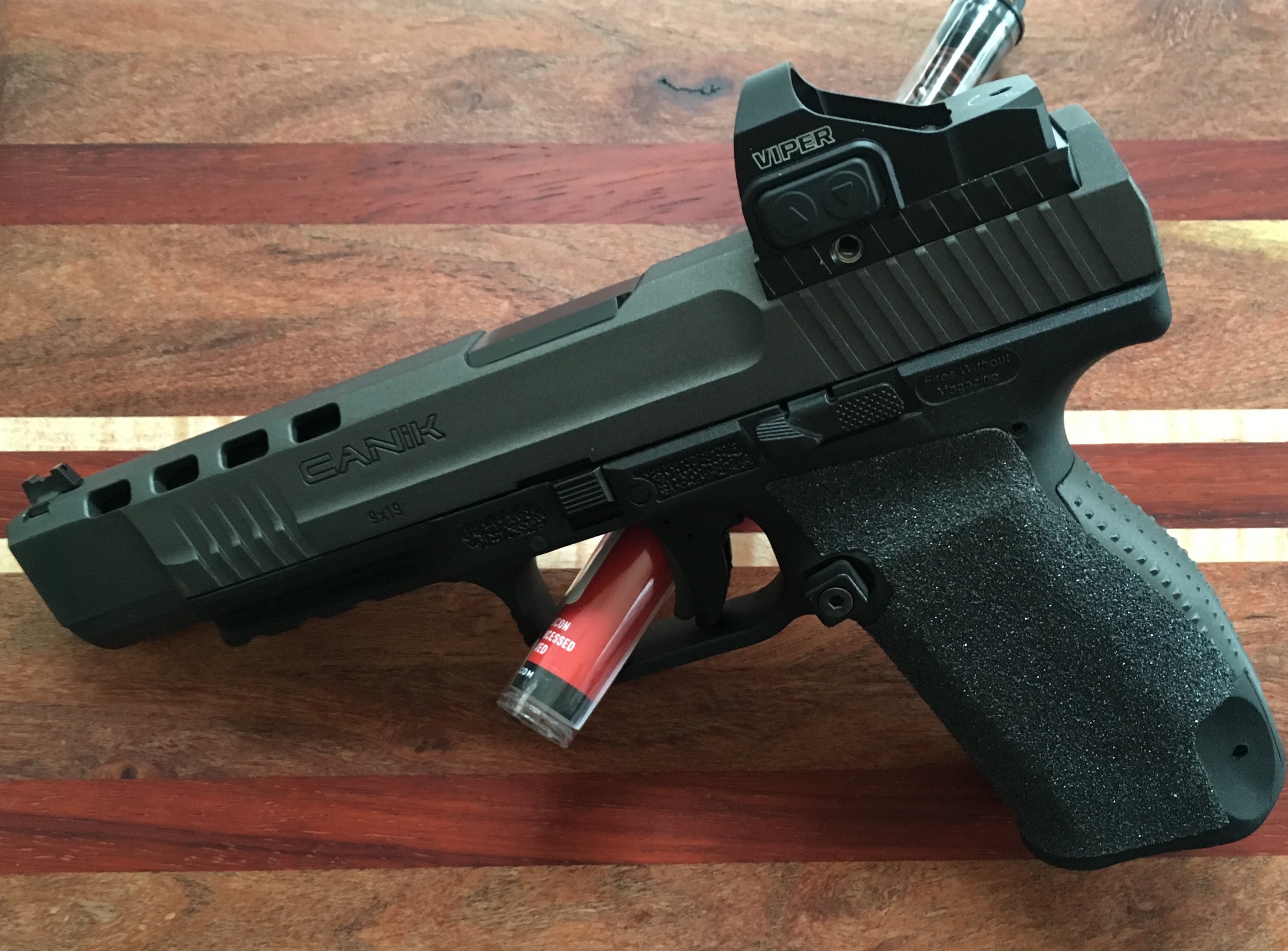 Out of the box, the TP9SFX is accurate with either iron sights or the Vortex Viper. The factory trigger is quite good, a long smooth pull, fairly crisp break and short reset. The one flaw with the TP9SFX is it's heavy recoil spring. The gun cycles with hotter loads. It runs well with 115 grn WWB or 124 grn NATO ammo. However, with softer 124 grn loads the gun would stovepipe and hand failures to feed. It would barely cycle 147 grn subsonic rounds with the shells ejecting only inches away. Because a slide mounted red dot has a tendency to bounce, I wanted to reduce recoil by changing the recoil spring.
The TP9SFX has a captured spring and there aren't many aftermarket options to replace it with a lighter spring. Currently, Sprinco does make a guide rod / 17lbs spring combination (SKU:19170) that's similar to a Walther PPQ M2, just specify Canik when ordering. Alternatively, both Springer Precision and Gray Guns (P320-F) make a full size Sig P320 replacement guide rod. You can use the 17 or 16 lbs Sprinco recoil spring with eiher of these guide rods, but I had to clip off two coils for the gun to cycle properly and go into slide lock. In addition, the slide may not go into battery with the stock striker spring. This can be fixed by replacing the factory striker spring with a Glock Red 28 Newton Extra Power firing pin spring.
One of problems with shooting a Canik in competition was the lack of aftermarket accessories such as holsters. Today, there is a growing number of manufacturers that make accessories for the TP9 line of pistols. For a holster, I ordered a Red Hill Tactical holster with retention knobs. Other accessories I've added are grip tape from Springer Precision, this tape is cut for a TP9V2 and it's not an exact match. However, it provides a rock solid grip on the gun. I'm not sure how I've lived without grip tape all this time. Taylor Freelance makes +4 magazine extensions that fit the USPSA/IPSC 140mm magazine gauge. Cain Arms makes a 3D printed +4 magazine extension that are less expensive and come in multiple colors, but they may require trimming to be USPSA/IPSC legal.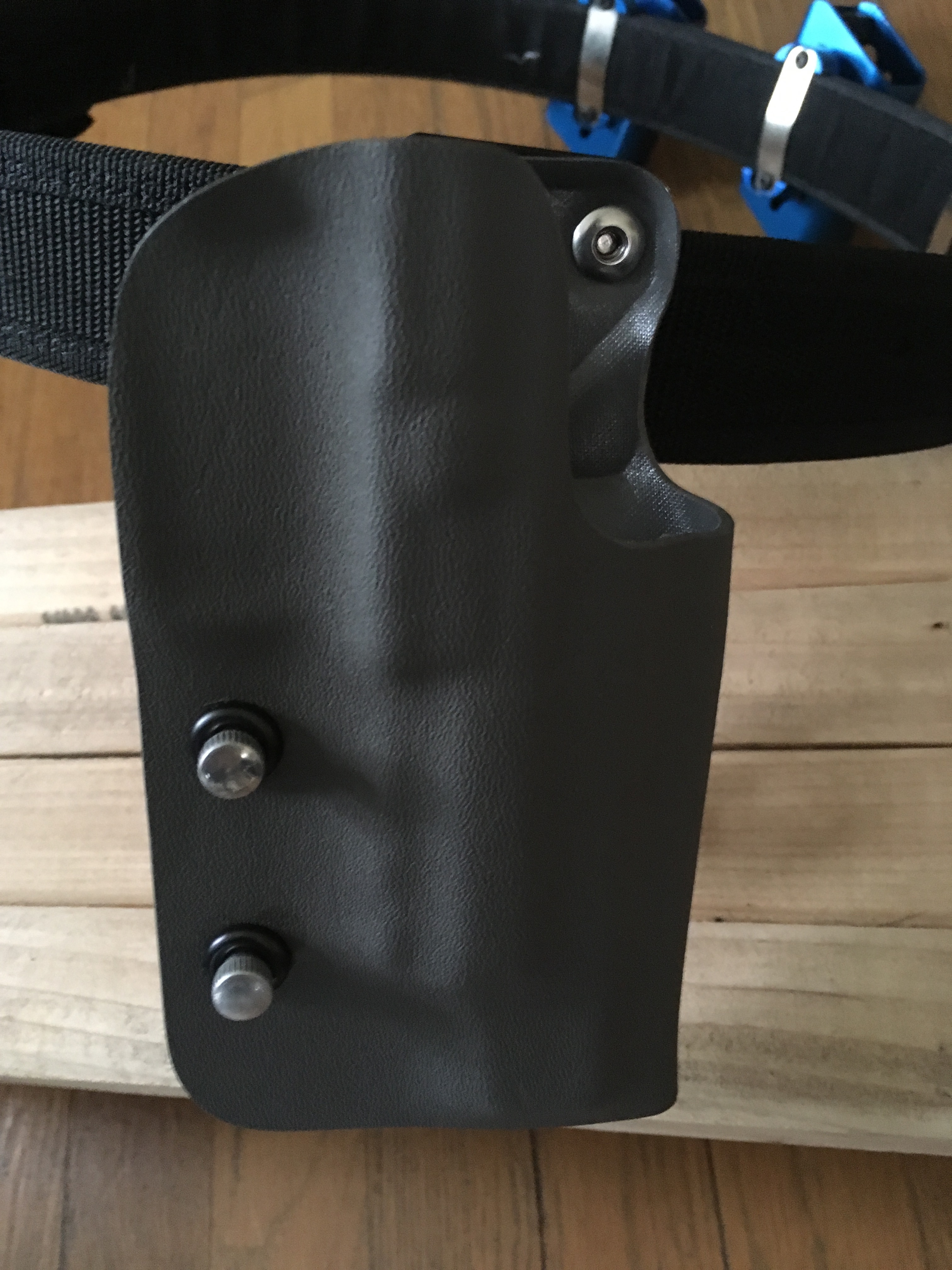 Red Hill Tactical holster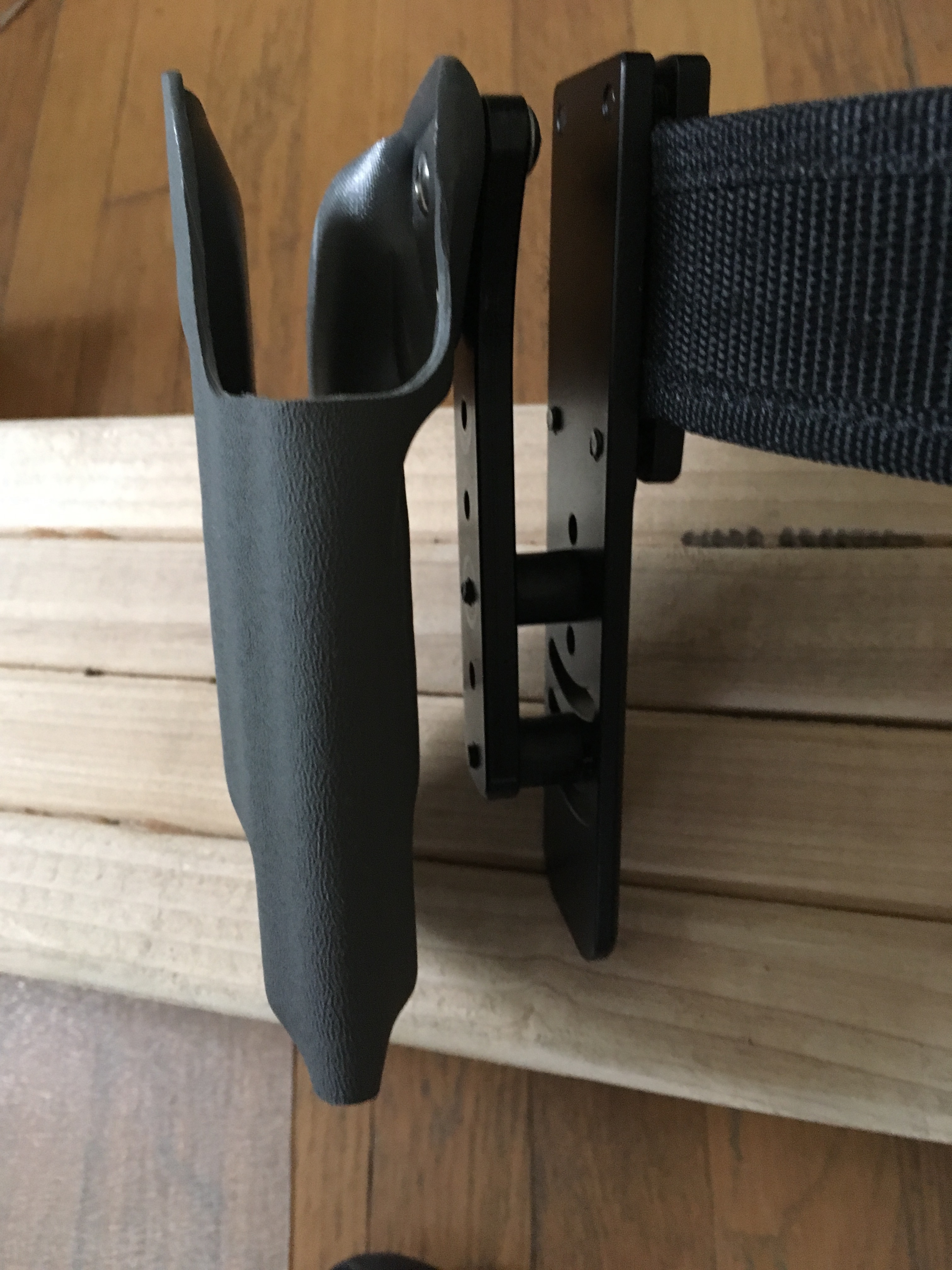 Ben Stoeger B.O.S.S. holster hanger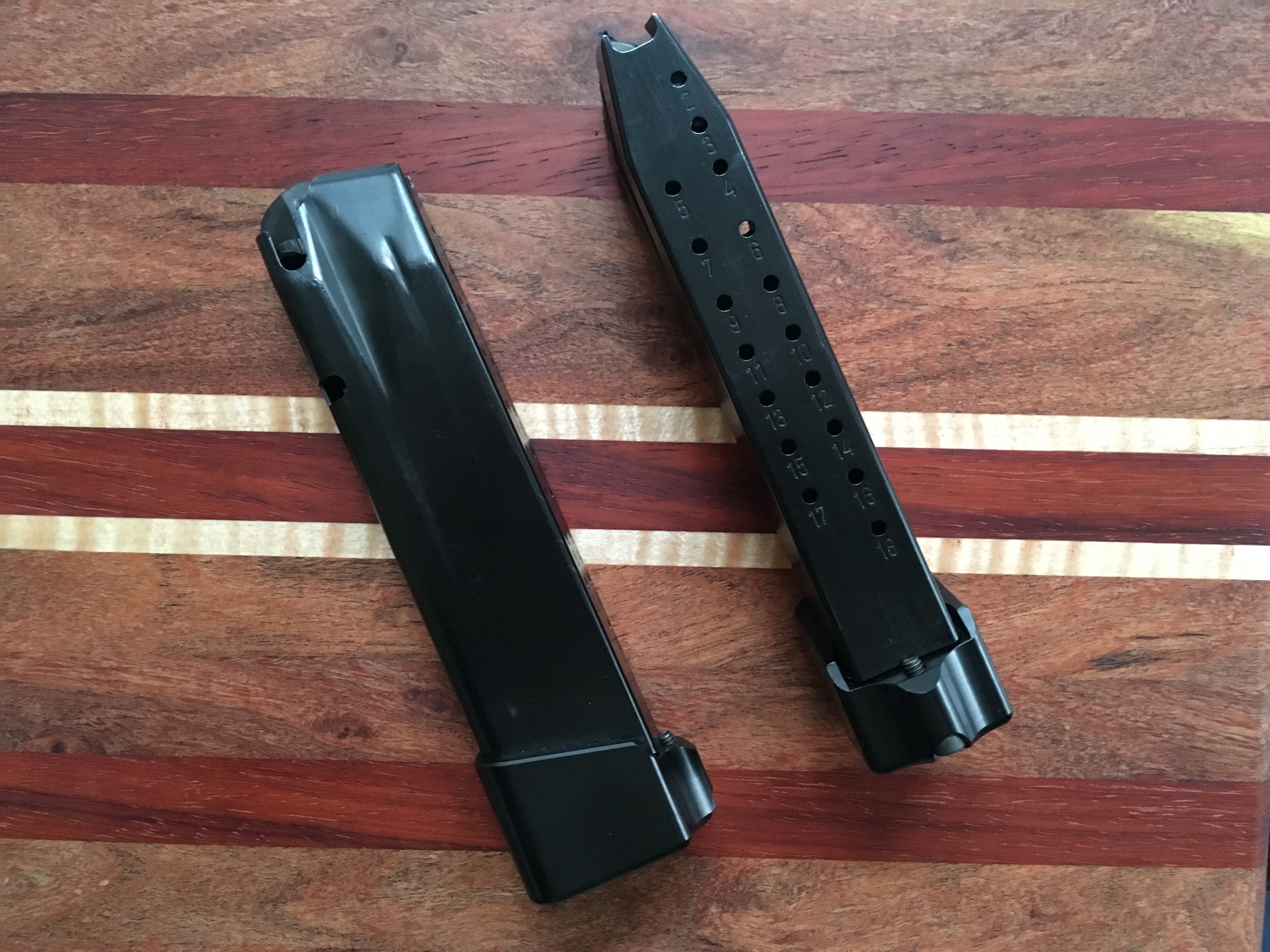 Taylor Freelance Canik +4 magazine extension (140mm)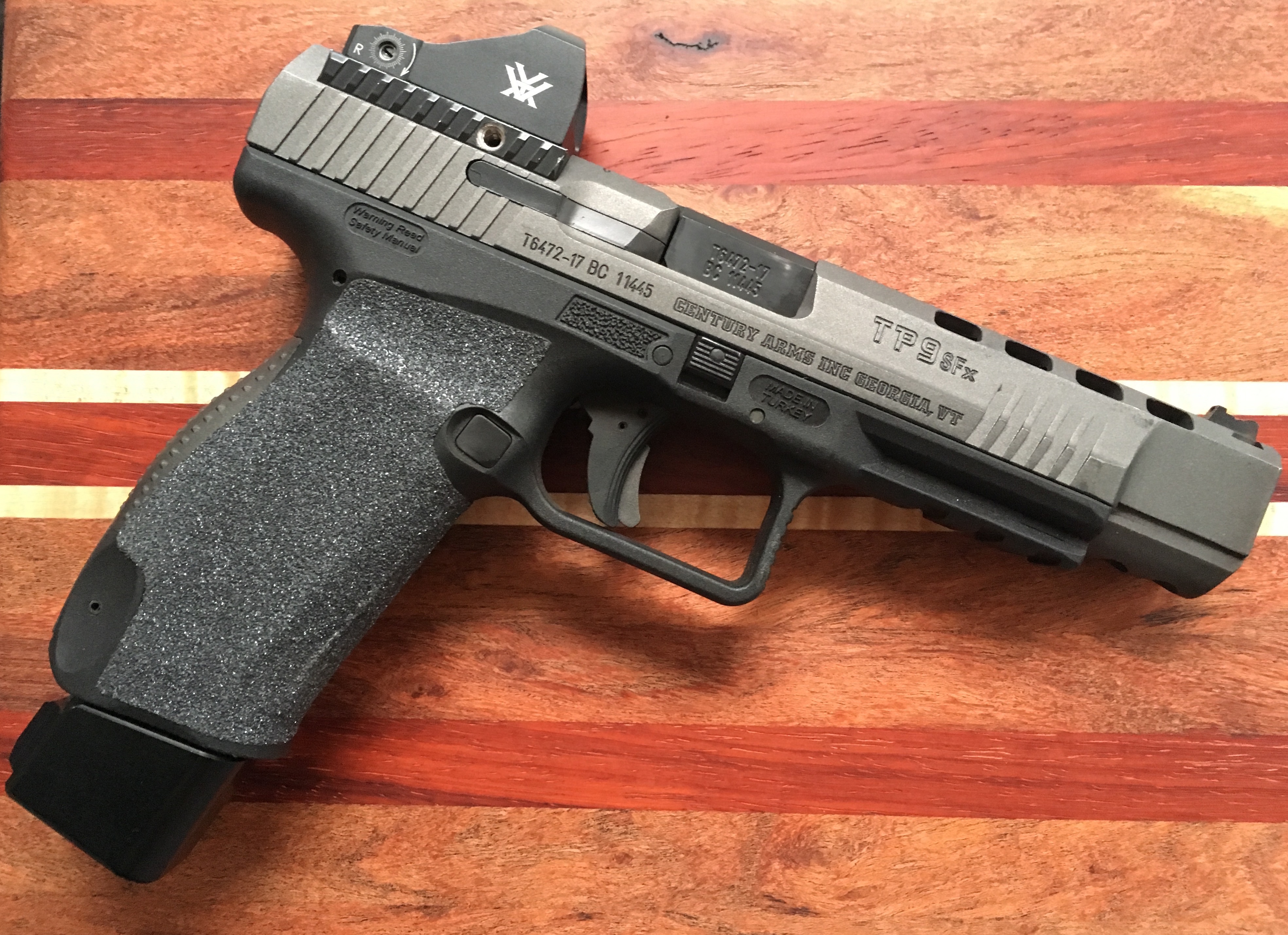 Canik TP9SFX with Taylor Freelance extension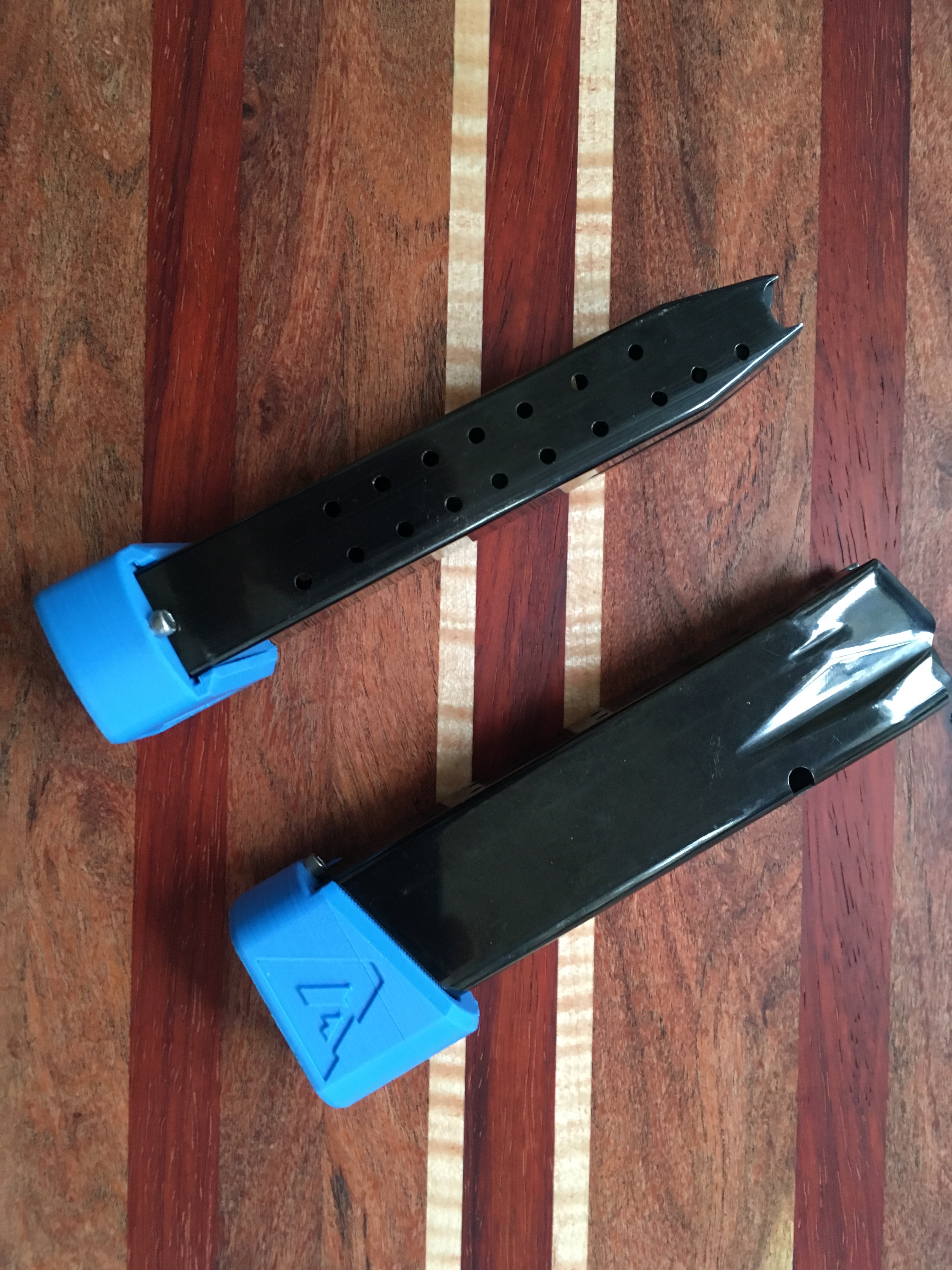 Cain Arms Canik +4 magazine extension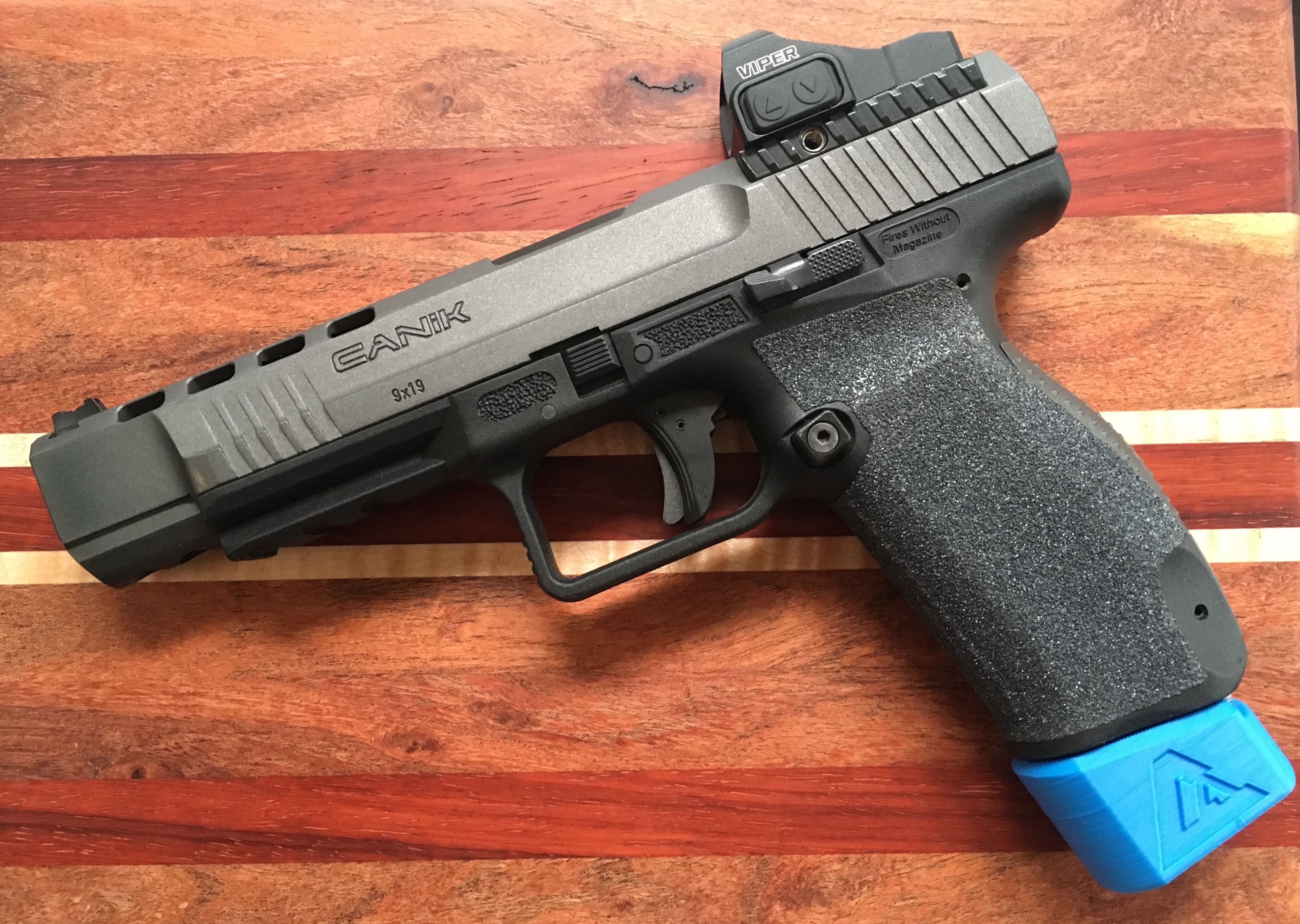 Canik TP9SFX with Cain Arms extension